10 Reasons to Dropship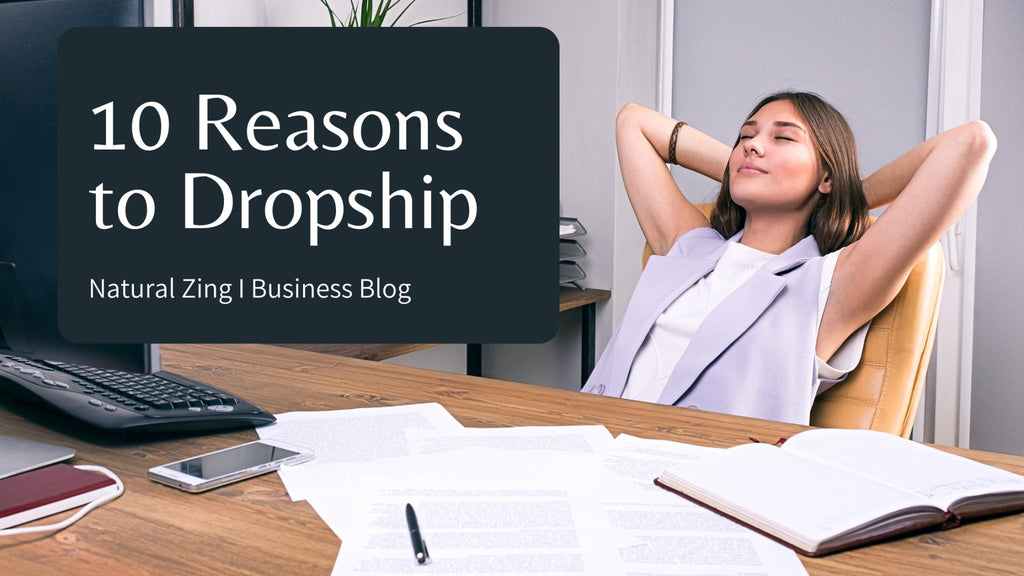 Dropshipping is a great business model for aspiring entrepreneurs to start with because it's accessible. With drop shipping, you can quickly test different business ideas with limited downside, which lets you learn a lot about how to choose and market in-demand products. Here are 10 reasons why Natural Zing drop shipping is such a popular model.  

1. Access to a large inventory of high-quality products.
Finding the right dropship partner is a critical first step when looking into dropshipping.  With Natural Zing you have access to over 500 high-quality wildcrafted and organic plant-based foods, superfood powders, and personal care products. Our products are in high demand by customers who have high standards.

Natural Zing spent nearly two decades researching and sourcing products for our catalog.  We work with the best suppliers and farmers that grow and source the highest quality foods.  We have worked with many of them for over 10 years negotiating great prices, and consistent supply; testing and determining which products are high quality, great-tasting, and are in high demand.

2. Less capital is required.
Probably the biggest advantage to dropshipping is that it's possible to launch an eCommerce store without having to invest thousands of dollars in inventory upfront. Traditionally, retailers have had to tie up huge amounts of capital purchasing inventory.

3. Easy to get started.
Running an eCommerce business is much easier when you don't have to deal with physical products. With Natural Zing's drop shipping services, you don't have to worry about:
Managing or paying for a warehouse
Packing and shipping your orders
Tracking inventory for accounting reasons
Handling returns and inbound shipments
Handling claims with carriers
Continually ordering products and managing stock level
4. Low overhead
Because you don't have to deal with purchasing inventory or managing a warehouse, your overhead expenses are quite low. In fact, many successful dropshipping stores are run as a home-based business, requiring little more than a laptop and a few recurring expenses to operate. As you grow, these costs will likely increase but will still be very low compared to those of traditional brick-and-mortar businesses.
5. Customer service excellence.
Natural Zing is known for its excellent customer service from our knowledgeable staff who you can reach by phone or email to our warehouse staff who packs every order with extreme care, to our fast processing of your orders in which in most cases are shipped out the same day the orders are received.
6. Flexible location
A dropshipping business can be run from just about anywhere with an internet connection. As long as you can communicate with Natural Zing and customers easily, you can run and manage your business.
7. Easier to test.
Dropshipping is a useful fulfillment method for both launching a new store and for business owners looking to test the appetite customers have for additional product categories, e.g., accessories or wholly new product lines. The main benefit of dropshipping is, again, the ability to list and potentially sell products before committing to buying a large amount of inventory.
8. Easier to scale.
With a traditional retail business, if you receive three times the number of orders, you'll usually need to do three times as much work. By leveraging Natural Zing, nearly all of the work to process additional orders will be borne by us, allowing you to expand with fewer growing pains and less incremental work. Giving you plenty of time to focus on marketing.
9. Building Your Branding.
As you expand your business you may create your own products or want to house other manufacturers' products in our warehouse to expedite and simplify orders as well as to minimize shipping costs. Some of our client's private label Natural Zing products, which require a minimum of 12 units purchased to obtain private label services. If you are not having them shipped out right away, then you can store the additional units in our warehouse until they are purchased by your customers.
10.  Save Money, Time, and Energy – Find a Role Model and Work with the Experts
Starting any business can be challenging but starting an eCommerce business can be overwhelming.  The best way to learn how to do anything is to find a great role model and follow their example.  Starting an eCommerce business is no different.  When you have a drop shipping model you are leveraging experts who know how to manage the warehouse operations and shipping side of things.  Over the last 15 years, I've watched many entrepreneurs have great intentions and sign up for drop shipping, but things fall apart when they get lost in the technology of launching a website or when it comes to marketing online products.  This is why Natural Zing has decided to share our expertise and help entrepreneurs get past these launching pains by offering business launch and marketing coaching and consulting. 
With 15 years of experience of dropship experience and 18 years of eCommerce natural food sales, our team of experts can guide you through the launch of your business, marketing, automation, and operations efficiency.  You know your customers are in safe dependable hands as we ship each customer's order out with care.  Our customer service team is available email, phone, messenger to answer your questions and help you resolve any issues quickly. 
Business Launch Coaching and Consulting Services 
Typically, when you start a business, you end up taking time, money, and energy away from the other areas of your life such as your career, your family, your existing business, your limited free time, your sleep... What is that cost to you?
Imagine we are building a business for you so you can basically keep doing what you are doing, maybe that is coaching, training, running your café, working a full-time job, or being a full-time parent.   You do not have to disrupt your life to start a new business.
We will help you get beyond the overwhelming aspects of a business launch.  We will help you look at the big picture to find the strategic needle movers or leverage points so that we develop a smart efficient plan.  As we dive into the work, we'll break the project down into a step-by-step implementation process. 

Just because you launch your eCommerce site or coaching program doesn't mean you will have sales.  You MUST market to generate income.  We know how to help you craft your message to health seekers so that they can find you and create copy that convinces them to buy.  
Natural Zing has a 90-Day Health and Wellness Implementation Lab that gets you launched and generating income fast.  For details of the program click
 

here.  

Additional Services:
Plan to launch your eCommerce store.
Q&A: Technical support
Q&A: Design support (FDA compliant product labels, online ads, website graphics, and more.)
SEO guidance and tips (titles, tags, keywords, etc.)
Suggested apps
Shop critique
Event Development – Workshops (1 hr to 3-day events)
Program Launch Coaching
Marketing Coaching and Services to attract your ideal customers/clients to your eCommerce store and/or services
Support and guidance on running your store.
Start generating the income you deserve and make a greater impact on your audience.  Save time, money, and energy by working with the experts.  Request a free consult with Helen.