Blueberry Cheesecake Plant-Based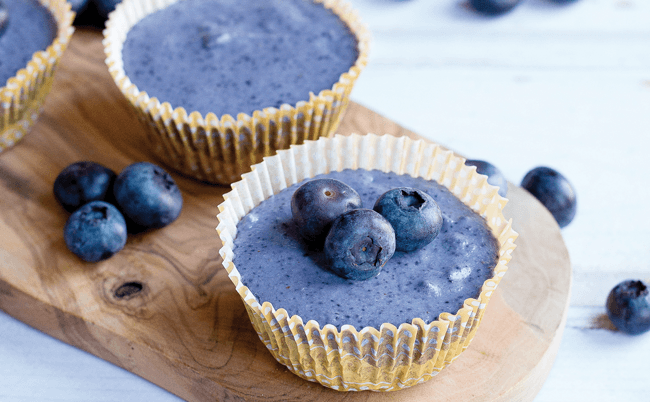 By Helen Rose, Plant-Based Food Chef, Natural Zing
The blueberries are in...the blueberries are in.  I've had such an amazing blueberry harvest this year.  I just had to come up with a recipe.  I took my cheesecake recipe and added fresh blueberries.  They burst with flavor inside the cashew-based filling.   These healthy, wholesome plant-based cheesecakes will be a delightful summertime treat.
This antioxidant-packed raw dessert captures the creaminess of its traditional dairy-based counterpart without any of the cruelty or cholesterol, making it the perfect bite-sized addition to your first picnic of the season.
 
Makes: One 9" cheesecake (pie plate)  or 8 mini cheesecakes
 
What You Need:
For the crust:
1½ cups of raw almonds
8 to 10 Medjool dates, pitted
1 to 2 teaspoons water
For the filling:
2 cups raw cashews, soaked overnight in water
1½ cups fresh blueberries, plus more for topping
1/3 cup coconut palm sugar
⅓ cup melted coconut oil
Juice of 1 lemon (or 2 tablespoons lemon juice)
½ teaspoon salt
 
What You Do:
1. For the crust, in a food processor, combine almonds and dates. Slowly add water, 1 teaspoon at a time as needed, until mixture clumps together.
 
2. Place pie crust in a 9" pie pan and mold it into place.   For Mini cheesecakes, place liners in a muffin pan. Press a little bit of crust into each cup.
 
3. For the filling, in a food processor or a high-speed blender, combine cheesecake ingredients until the mixture is smooth.  You may need to use a tamper or a spatula to work the filling down into the blander.
 
4. Pour cheesecake filling into the crust of the pie pan.  For mini cheesecakes spoon cheesecake mixture into each muffin cup, filling to the top. Once all muffin cups are filled, place muffin pan into the refrigerator for 8 hours until completely firm. You can also place cheesecakes into the freezer for 3 hours to speed up the process.
 
5. Serve topped with fresh blueberries, if desired.