2022 is Seeing a Surge In Entrepreneurship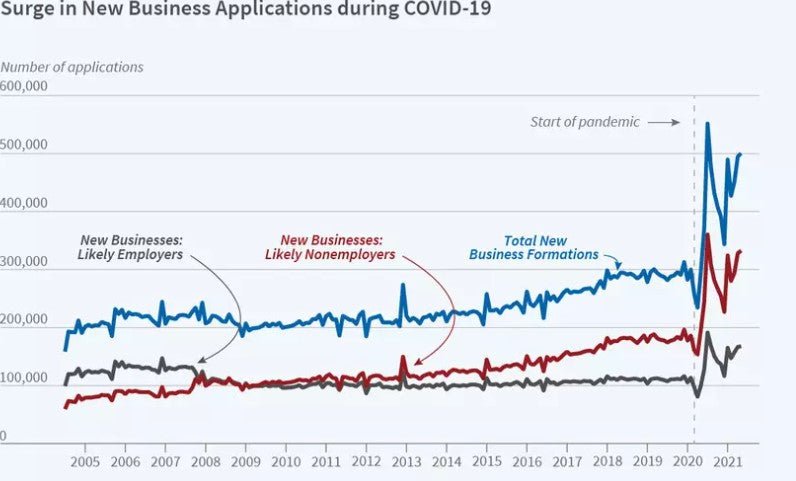 New numbers released by the U.S. Census Bureau in January 2022, found that a whopping 5.4 million new business applications were filed in 2021, surpassing the record set in 2020 of 4.4 million.  

Digital.com, a leading independent review website for small business online tools, has published a recent survey report to examine entrepreneurship in America and key factors influencing startups. The study generated responses from 1,250 adults and highlighted trends across various industries. 

The study shows that 2 in 5 people plan to start a business this year. Forty-seven percent of Americans who want to start a business are currently working for an employer, 34% are self-employed and 19% are unemployed. Fifty-five percent of aspiring new business owners will leave their current jobs within the next 12 months.   Are you part of this trend?
How to Combat the Failure Rates?

In 2019, the failure rate of startups was around 90%. The research concludes that 21.5% of startups fail in the first year, 30% in the second year, 50% in the fifth year, and 70% in their 10th year.1 But don't let these statistics discourage you: if at first, you don't succeed, try again.

The biggest causes of failure for new entrepreneurs are procrastination, being overwhelmed, fear of failure, and wasting time and money going down the wrong paths. 

Research shows that not seeking advice from experts is a leading cause of failure.   It is good you have a mentor that will always put you through to avoid silly mistakes. Another advantage of seeking professional advice is that you are meeting people that have already done the business and they have made mistakes and know the best way of doing it.

Failure to understand your market and customers is where many of our prospects miss-step.  This is the foundation of a business and the starting point.  It is also how businesses survive and stay sustainable over time.  As a marketing strategist and business launcher for 25+ years, I have this process down to a well-oiled machine and guide my students and clients through this process time and time again.
 
What Are the Most Important Skills for a Successful Entrepreneur?
While there is no magic formula for beings a successful entrepreneur, those who do succeed tend to have mastered the following set of skills: good and effective communication; being able to sell both themselves and their idea or product; strong focus; eagerness to learn and be flexible; and a plan.

I have designed my program to help you overcome these common causes of failure.  By creating a support system in place to coach you along the way to overcome procrastination and fear of failure.  By creating processes to follow to avoid mistakes and creating a step-by-step process that leads you to success. 

The content of my program focuses on building communication, sales, and focus skills. I help my students and clients build the mindset needed to deal with adversity which is common in the ups and downs in entrepreneurship.  I invite you to learn more.
New Coaching Options
Join the waitlist for a new small group coaching program to help you launch and scale your business.  The average size of the group is 10 people.  Intensive small group with coaching, accountability, content, and Q&A calls.