Chickpeas with Kale & Sun-Dried Tomatoes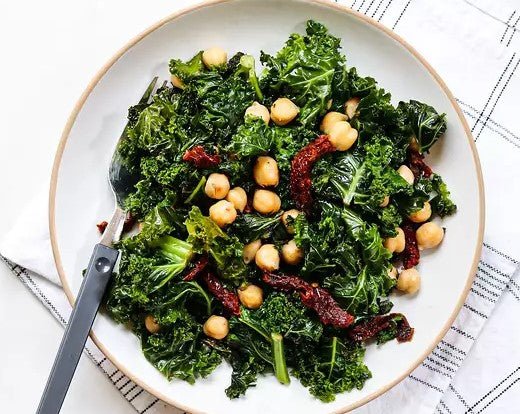 Ingredients
¼ cup slivered sun-dried tomatoes
1 bunch kale
2 tsp. Sea salt or Himalayan salt 
1 lemon, juiced
¼ cup extra-virgin olive oil
15 ounce no-salt-added chickpeas, rinsed  If using uncooked soak for 24 hrs. in water.


Directions:
Remove stems of kale.  Chop kale into small bite size pieces.  (no bigger than 1 inch by 1 inch).

Rinse kale then spin in salad spinner.

Put kale into a large bowl.  

Shake 2 tsp of salt over kale.  

 Massage kale until it softens and wilts.   You may need to add more salt.   Before continuing. Taste kale makes sure it is not too salty.  After you are at the correct texture (softness).   

Fold in chickpeas and sun-dried tomatoes.

Chill in refrigerator and serve.