Dark Chocolate and Blackberry Tart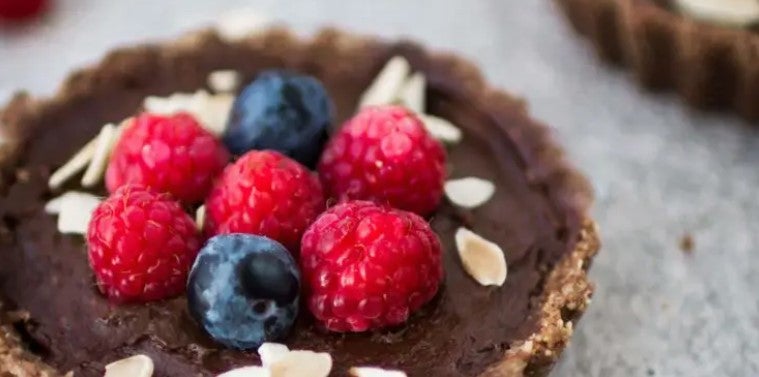 Base:
3 oz of ground almonds
3 oz of rolled oats
4 to 5 medjool dates (pitted them!)
2 tbsp flax seeds
1 tbsp cacao powder
2 tsp coconut oil, melted

Filling:
50 g fresh blackberries
6 oz of cacao paste melted
3 tbsp light coconut cream
1 tsp vanilla extract
Serves 6 to 7

Instructions:
1.  To make the base, add all the ingredients to a food processor and blitz (pulse) until a breadcrumb consistency forms. 

2. Portion the mixture into 6 mini tart cases, flatten and spread out up to the sides of the mold with a spoon or your hands.
3.  To make the filling, scatter some blackberries into the bottom of the tart case.
4. In a bowl, mix together the melted cacao paste, coconut cream and vanilla extract.
5. Pour the chocolate mixture from the bowl over the blackberries and allow to stand to let the chocolate set (about 10 to 15 minutes).