RAW VEGAN BERRY CACAO CHEESECAKES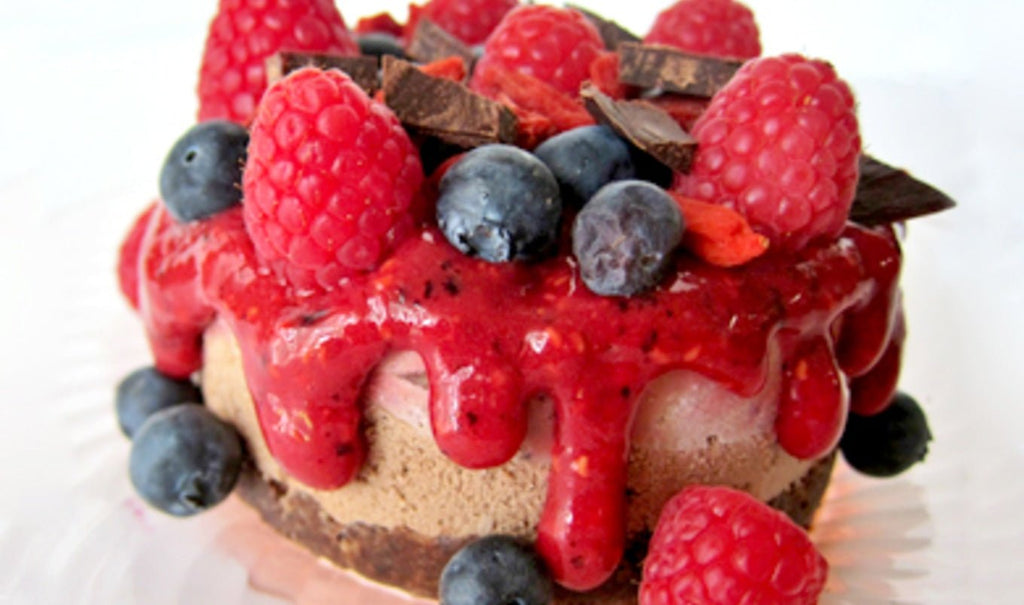 Recipe By Amy Lyons
What you need:
What you do:
1. For the crust, lightly coat bottoms and sides of four 4-inch spring form removable-bottom pans with coconut oil. In a food processor, process nuts, coconut, and salt until fine crumbs form, then add dates and cacao powder and process until mixture holds together when squeezed between your fingers (if not holding, add more dates). Firmly press crust into bottom of prepared pans, and set aside.
2. To make the filling, in a food processor, blend cashews, coconut water, coconut, coconut nectar, salt, and vanilla until smooth and creamy. With the processor running, add coconut oil, and process for a minute until blended.
3. Divide filling in half and place half back into food processor, add mixed berries to mixture and process until smooth and well-blended.
4. Scrape into a bowl and set aside. Add remaining batter to food processor and add cacao. Process until well-blended, then pour over prepared cheesecake crusts. Pour reserved berry filling over and smooth out top. Place cheesecakes in freezer to set for about 4 hours until firm.
5. To make the topping, in a food processor combine 3/4 cup mixed berries and raw agave nectar and process until smooth.
6. Once cheesecakes are set, unmold and place on serving plates. Spoon pureed mixture over each of them letting it run down sides. Scatter berries over top as well as chopped raw chocolate. Serve immediately.
Chef's Tip: 
If you would like to make one large cake, use a 9-inch spring form pan. The cake will need longer to set, about 6 hours.