Raw Goji Berry Stuffed Chocolate Treats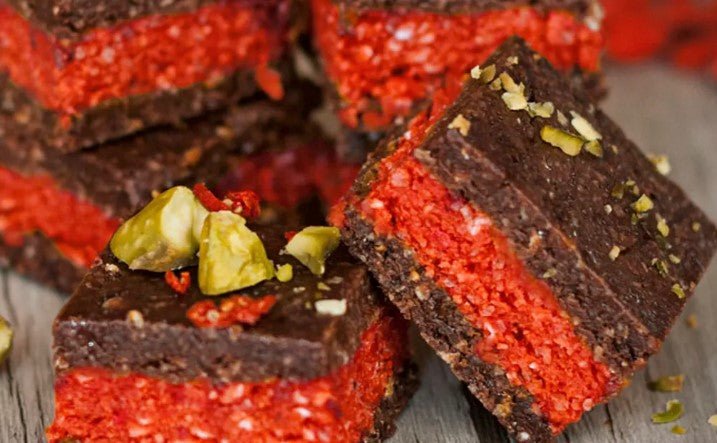 Recipe by: Lisa Andersson and Erik Huss
A delicious treat with goji berry paste in the center between two chocolate layers. Very festive.
Ingredients
4 cups gluten-free rolled oats
2 cups almond flour
4 tablespoons raw cocoa
2 tablespoons liquid sweetener
2 teaspoons vanilla
8 Medjool dates
Water, as much as is needed to get a smooth, solid mass
2 ounces of goji berries
2 cups almond flour
2 tablespoons agave nectar
1 teaspoon gingerbread spice
2 tablespoons pomegranate juice (optional)
1 cup pistachios, topping
Preparation
Start the evening before and soak the goji berries in a bowl of water for 6-12 hours
Start with the chocolate layers which will be both the bottom and top layer. Mix the oats in a blender or with a hand blender until you have a flour.
Add the almond flour, cocoa, and vanilla and mix the dough well.
In another bowl, mix the dates into a fine mass.
Put the dates into the dry mix and add the agave and 1 tablespoon of water.
Blend the mixture into a fine, smooth, mass. If it becomes too dry, add water until you get the desired consistency.
Rinse the goji berries and put them in a bowl.
Add the almond flour, agave, pomegranate juice, and gingerbread spices and blend the mixture until you have a fine blend.
Take out a small square shape mold and wrap it with plastic wrap.
Put in half of the chocolate mass and work it into the form until you have an even layer. This is your top layer.
Then lift out the chocolate mass with the plastic wrap and wrap the mold with new plastic wrap, add the rest of the chocolate and press it out.
Then add the goji paste and spread evenly.
Now it's time to put the first chocolate layer by gently laying it over the goji paste with the plastic side up.
Chop the pistachio nuts and remove the plastic wrap to sprinkle the chopped nuts finely over the cake.
Add to the plastic wrap back on top and then put the cake in the refrigerator for 2-3 hours.
Then remove and lift the whole cake on a cutting board and chop it into pieces.